What Does a Ghostwriter Do for Me?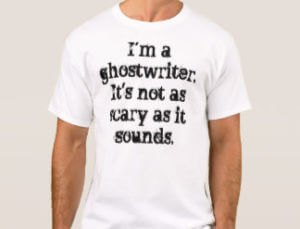 Often people want to know 'Exactly what does a ghostwriter do?' or 'How does a ghostwriter help me?' This article examines some of the things I did for my clients in 2016.
Book Writing
2016 was a very prolific year. I wrote five books, including three non-fiction books for clients. One of the books became an instant bestseller and an Amazon Hot New Release that helped launch my client's new business. Another is selling well and is allowing my client to book many new profitable speaking engagements.  The third book I began in 2015 and completed in 2016 is set to be published later this year. Moreover, I wrote two new fiction novels of my own—one under my own name, a bestselling techno-thriller called Lunar Options, and one under a pen name, which released in mid-December and is selling well.
Publishing
Traditional and independent presses published six books I wrote between 2016 and 2015.  In addition to my own new bestseller, one of the books I ghosted, which my client chose to self-publish despite a number of offers from traditional publishers, has so far sold more than 5,000 back-of-the-room copies at $20 each and earned my client more than $100,000—much more than the $25,000 advance publishers offered him.  Late last year, that client contacted me to begin work on his second book, which he again plans to self-publish this year.
Book Proposals
In addition to these books, I also wrote a number of book proposals. One of these proposals led to my client being picked up for representation by the Ross-Yoon Agency in Washington D.C. Ross-Yoon represents some of the greatest political and social thinkers in our country—including 2016 Pulitzer Prize winner for general non-fiction, Joby Warrick.  My client, who often appears on CBS, Fox News, MSNBC and as a regular commentator on CNN is now connected to an agent to have his book published by a major house.
Film and Television
I also met with a number of Hollywood producers to pitch a few clients' books. As a former screenwriter, I am honored to know a number of film and TV producers, directors and actors personally. This year, I also received calls from new producers seeking stories for TV and film. I never know when one of my clients' stories will fit with what a producer wants to do, but it is a good thing to know that the doors are always open for that opportunity.
Audiobooks
Finally, I was invited by one of my clients' publicists to attend the Society of Voice Arts and Sciences Awards at Warner Brothers Studios. Both Lunar Options and my perennial bestseller What I Wish I Knew Before I Moved to Hollywood, a book used by colleges around the country, will soon be released as audiobooks. Audiobooks open up completely new audiences for writers—people can listen to books while working out or commuting to work. People may not have time to read books, but they can now enjoy them passively.  I am excited about the growing audiobook market, and I look forward to helping my clients reach it.
As a trusted confidant, a ghostwriter gets to share in, and help bring to life, the hopes and dreams of men and women from all imaginable worlds. I am very proud of the work I do for clients. One of the greatest joys of being a ghostwriter is meeting fascinating people and gaining access to the inner workings of some of the greatest minds on Earth. It is my honor to work closely and confidently with these brilliant people to help them share their story. It is beyond fulfilling to help clients who have something truly worth saying get that message to the world.
So what can I do for you?
Write a book proposal that gets you noticed by one of the top agents in the country?
Make you a bestselling author?
Help launch your new business?
Position you or your business for phenomenal growth and greater reach?
Help you finish that book that has been in your heart for years, but has somehow failed to materialize on the page?
Get your story to film and TV producers?
Midwife your idea, organize your thoughts, and bring structure, focus, and a dynamic narrative style to your story?
I did all of these things in 2016. In addition to being an expert in storytelling, a professional ghostwriter is also part therapist and part friend. It sometimes takes hours or days to get at the heart of what my clients want to say, but I do whatever it takes to help you leave your literary mark on this world.
I am excited for this next year and the new people I will meet. Perhaps you will be one of them.  If you want to know how I can help you, please feel free to contact me by clicking on the Free Consultation button. Fill out the form, shoot me an email or give me a call, and let us get going on your new book. Next year, this article may be about you and your new book.
Author and Ghostwriter
at
Your Ghostwriter Online
I am a bestselling author and ghostwriter who loves helping others tell their stories through books. I have written more than 20 books and proposals for professionals including professors, motivational speakers, UN peace negotiators, pastors, athletes, celebrities, politicians, humanitarians, lawyers, doctors, brokers, and thought leaders from around the world. I'm happy to help you, too.
Latest posts by T.R. Locke (see all)
Comments are closed.